This month my book club picked The Luminaries for our reading and discussion, an 850 page stonker that has received critical acclaim and award. Unfortunately, I couldn't get into it at all, despite numerous attempts, though people at book club broadly enjoyed it. However, I'm secretly pleased with my decision to ditch it because in April I read 6 brilliant books, all of which I loved in different ways.
Eleanor & Park
- Rainbow Rowell (Kindle) 9/10
After loving Fangirl last month I couldn't wait to read more from Rainbow Rowell so I chose to read this during the 24 in 48 readathon.
It's 1986, and Eleanor is the new girl in school with wild red hair, weird clothes, and a home that's anything but happy. On her first bus ride to school she picks the seat next to Park, a quiet boy who intrigues her deeply. Over the course of the school year they grow closer, exchanging comic books and mixtapes and secret glances and slowly falling in love.
This book was so adorable and I'm really pleased to hear it will be made into a film. Hollywood doesn't give a lot of screen time to characters like Eleanor and Park so it will be interesting to see what they do with it. Fortunately Rowell is writing the screenplay so I feel that it's in safe hands!
The Woman Upstairs
- Claire Messud (Paperback) 9/10
This was one of our alternative choices for book club in April and I picked up a copy in a South London bookshop on a day out.
By day, Nora is an elementary school teacher but by night, and in her heart, she is an artist. When a new boy, Reza Shahid, joins her class she is charmed by his sweet manner and soon befriends his parents, Skandar, a Harvard fellow, and Sirena, also an artist.
As Nora grows closer to the family she opens her heart to them whilst closing off parts of herself that she is not prepared to see. Ultimately this is a book about friendship that made me think a lot about the way that relationships evolve as we get older.
The ending of this book was fierce and absolutely stunned me, I urge you to read it.
All the Birds, Singing
- Evie Wyld (Hardback) 10/10
I've had this on my wishlist for AGES and so I was delighted to win a copy from
Rachel
when I took part in 24 in 48 and I have thought about this book every day since I read it.
Jake Whyte lives alone on a rural farm with her dog, named Dog, and the rain and the wind and her sheep. But something is picking them off in the night and Jake has no idea whether to blame the local kids, a strange man who lurks nearby, the wolves, or the past she has tried to escape.
I felt in my very deeply that I needed there to be so much more of this book, but ultimately that's what I liked about it so much. Wyld unfolds the pieces of Jack's life loosely but there are parts that just didn't need to be told, such is the power of her writing. I really need other people to read this so I can talk to them about it!
The Vacationers
- Emma Straub (Kindle) 7/10
Particularly in the summer, I find that I need a bit of a break from reading books about murders and disaster and devastation, and start to crave something a little more light-hearted. The Vacationers is perfect for that.
Lots of us long for a remote island getaway, but not when accompanied by your dysfunctional family, all reeling from a series of lies, misjudgements and betrayals. Far from the recipe for a perfect trip, the Posts and their friends are forced together to face two weeks of sun, sea, and soul-searching.
The beautiful descriptions of the Mallorcan countryside made me long for another trip there and with the perfect blend of drama and humour, The Vacationers should be in everyone's beach bag this summer.
It's out on June 5th so add it to your summer wishlist now!
The Rain
- Virginia Bergin (Kindle) 9/10
Sixteen year old Ruby Morris is a pretty normal teenager, obsessed with boys and her friends and her mobile phone, until one day the rain turns toxic and anyone who comes into contact with it dies a grisly death. All alone, Ruby must figure out how to survive without her friends, without the internet, and without doing anything totally embarrassing.
Despite the gory subject matter, I actually thought The Rain was hilarious and really well written from the viewpoint of a teenager, although there were bits that made me cry too. I'm trying to read a bit more YA fiction this year and it was great to read something set in the UK.
If you do read this, I advise you not to read it outside as when I did a drop of rain fell on my head and I FREAKED OUT. You'll never look at water the same way again.
The Rain is out on July 17th.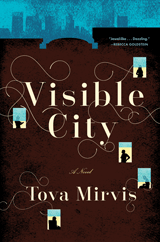 Visible City
- Tova Mirvis (Hardcover) 8/10
This is a really smart book told from the viewpoints of seven different people living in NYC's Upper West Side in luxury apartments on opposite sides of the street.
Claudia can't give up her search for a stained glass window nobody believes exists. Emma is recovering from an injury and can't face what happens once she's healed. Nina can't stop watching her neighbours and wishing for the lives they live.
This is quite a short book, and I think I'd liked to have had another 100 pages to explore some of the characters more deeply but otherwise it's a stark look at what we covet and the paths we choose to follow.