October is the dawn of my favourite phase of reading, the nice cold winter months where I get to spend more of my evenings curled up with a book and a glass of wine and a candle or three. Except this year October has been incredibly mild, we took a mini-break to Barcelona, and just two days ago I was out in a thin summer dress and bare legs even late into the evening. As a result, my reading hasn't quite slipped into full 'Autumn' mode just yet but I'm curating a nice little pile to get through in the coming months.
I did do quite a bit of book buying this month, what with it being
Super Thursday
, and I also had a trip to Foyle's with my favourite bookish friend Nicola when she visited last weekend. You can take a look at
her YouTube channel
to find out about all the books she likes.
But let's move on to what I liked last month!
Straight White Male
- John Niven (Papeback) 9/10
Kennedy Marr is an absolute wanker.
Working as a script-writer in L.A., all Kennedy really cares about is drinking hard and shagging every woman he sees, and it's not getting him very far. He owes the taxman a tonne of money, and has a strained relationship with his ex-wife and daughter, and his family back home in Ireland.
Unexpectedly, Kennedy is awarded a prestigious literary prize that comes with a hefty cheque, and the unfortunate requirement to spend a year teaching in a English university, the very one where his ex-wife works. He accepts.
If you knew him in real life you'd think he was such a shit and you'd never want to see him again, but here Niven has created a character who is such a hopeless mess that you can't help but love him a little bit. I enjoyed Straight White Male so much that I've been telling everyone about it since and I suspect Kennedy will be one of the most memorable characters I've spent time with in 2014.
Before I Go To Sleep
- SJ Watson (Hardback) 7/10
I've had this book for ages and was determined to read it before I saw the recent film adaptation.
Years ago, Christine had an accident that meant she loses her memory every time she goes to sleep. Each morning she wakes to find a man in her bed, and has to piece together the discovery that this man is her husband, and his name is Ben.
Amongst her belongings Christine finds a notebook that Ben doesn't seem to know about, and where she's been recording notes about her day. A lot of these contradict each other and Christine finds herself trapped in an endless cycle of memory loss, unsure who around her she can really trust.
If you're a fan of an unreliable narrator, like I am, then this is the book for you!
Not That Kind of Girl: A Young Woman Tells You What She's Learned
- Lena Dunham (Hardback) 7/10
One of the most hotly anticipated books of the year amongst my fellow twenty-something book/TV fans, Dunham's debut does not disappoint. And yet, somehow it didn't quite grip me in the way I'd hoped but I think this could be down to hype, and the number of interviews with Lena I've already read.
Dunham has a spectacular way of recounting the tales of her youth in a way that had me often putting the book down to spend some time working through my own stirred up memories. She's not afraid to tell the world about all the things that made her a weird child, and a confused adult, and I found comfort in that.
What was especially fun to discover, was just how many of the storylines in Girls are based on Dunham's own experiences such as coping with OCD, working in a high-end children's clothing boutique, and a horrible thing involving a cotton-bud, but I sometimes felt that because I'd seen this on screen, it didn't have the same impact when written down.
Dunham is understandably an inspiration to a generation of women and it's refreshing to read that she's not perfect, and is still figuring her shit out too. If you're going to buy this book, get the hardback, because I have a feeling you'll want to pass it around to all your friends, just like I have.
Spoiled Brats
- Simon Rich (Paperback) 8/10
Spoiled Brats is another short story collection where Rich explores the relationships between children and parents, and issues a satirical takedown of everything that is wrong with the hip young people of today.
There's a story about a classroom hamster who has to protect his family from the monsters who are supposed to care for them, and another about a man who was pickled in brine 100 years ago and has returned to Brooklyn with fresh eyes to meet his only living descendent.
It's a rare book that has me laughing out loud on public transport but Rich never fails to deliver on that front. While I did absolutely love this book, I was a little disappointed that some of the stories were taken from his regular work in The New Yorker, and so big fans will likely already have read some of this.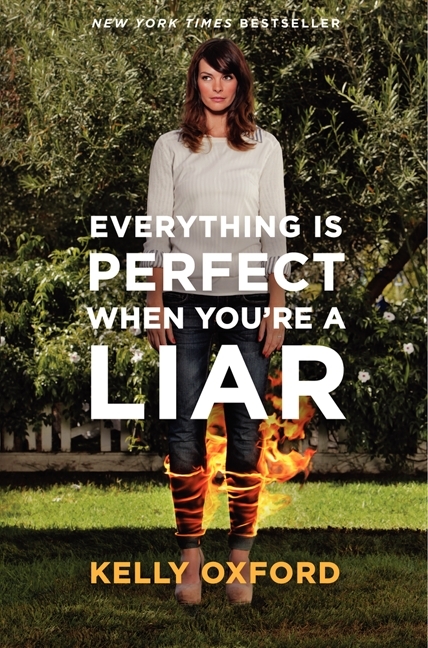 Everything Is Perfect When You're a Liar
- Kelly Oxford (Kindle) 8/10
I've been reading this book on and off over the course of 2014, not because it wasn't interesting, but because I find Oxford's essays perfect for those moments when I fancy a short funny read.
Kelly rose to fame after being hilarious on Twitter landed her various TV writing gigs but her biting wit really comes to life here in these essays. This is her first book (I hope there'll be others!) and she shares stories about growing up awkward, becoming a parent, learning to work in a care home as a backup plan, and generally just stumbling through life without going insane.
My favourites are the chapters about her running off to L.A. to try and meet Leo DiCaprio, and taking her whole family to Disneyland, a place her husband hates with a passion.
Kelly is still brilliant on
Twitter
, so if you don't buy this, you should at the very least follow her there.
Hons and Rebels
- Jessica Mitford (Paperback) 8/10
It's quite rare that I re-read books but I enjoyed giving this another go for book club this month. Hons and Rebels is second youngest sister Jessica's memoirs of her childhood growing up in one of Britain's most famous families.
Decca, as she was affectionately known, is my favourite Mitford and the feistiest of the lot. I loved her sense of adventure, particularly in saving up her Running Away Fund and joining a group who called themselves Bright Young Things and threw an array of wild parties to which they had to bring increasingly bizarre items including a lampost, a policeman, and a duck from St James' Park.
I also found it fascinating to read her impressions of sister Unity, who went off to Germany and befriended Hitler, quite at odds with Decca's communist beliefs. There is a stark moment where she imagines what would happen if they had to execute one another which made me want to hug my own sisters forever.
Hons and Rebels is a great look at the lives of aristocracy in the earlier part of the 20th century. If you're a Downton Abbey fan, I'd suggest this is a must read as a lot of it reminds me of The Mitford family.
I've been a fan of Jessica's since reading her book
The American Way of Death
several years ago and if you don't know the sisters well, Hons and Rebels is a fantastic place to start, as is
The Mitford Girls
. Be warned, with other Mitford's writing books too, it's not uncommon to read something by one of them and want to devour everything else they've ever written.
What have you been reading this month? Have you got a recommendation for a perfect wintery read that I should add to my list? Let me know in the comments or come chat with me on
Twitter
.