As if it's September. Where is this damn year going? I've been busy with work, busy with my
wedding celebrant
business, and also busy reading despite one or two slumps. Throughout June, July and August I took part in Paperback Summer, a challenge to only read paperbacks which was mainly a success bar the odd Kindle detour.
I don't think I've read as much this summer as I'd like, but it's been distinctly light on the holiday front, and distinctly heavy on the partying front, neither of which are conducive to quality time with my books.
I'm looking forward to Autumn (like most readers I know!) and having more nights on my sofa under a cosy blanket. Here's what I've been reading, with a few YOU MUST READ THIS recommendations.
Smoke Gets in Your Eyes: And Other Lessons from the Crematorium
by Caitlin Doughty (Paperback) 10/10
I'm a huge fan of books about popular science books about death and dying, so I knew this would be a must-read! Caitlin Doughty is mortician and the founder of The Order of the Good Death, a group of funeral industry professionals who aim to challenge cultural perceptions of death.
In her book she shares her experience of how she came to be a mortician, and how her work has challenged her beliefs about the funeral industry. She really knows her stuff, and is careful to include lots of perspectives from different cultures, an an excellent commentary on how we've become a society who shy away from death.
Even if you're not as morbid as I am, I strongly encourage you to read this book and start thinking about what you want to happen when you're gone. It's never too early to think about, but can easily be too late!
Bedbugs
by Ben H. Winters (Paperback) 7/10
Not gonna lie, Bedbugs is creepy as fuck. A woman moves into a new apartment with her husband and their young daughter, a huge place, perfect location, under their budget, too good to be true. Soon she starts to discover bites on her skin, but her husband and daughter don't have a mark on them, and a pest control team can't find any evidence of bedbugs.
I read this in bed (not the smartest move ever!) in a morning during the summer edition of the 24 in 48 readathon, and was completely gripped to the point that I then started to think I was seeing bedbugs. One of the coolest things about this book is that the page margins occasionally have a black speck printed on them which really adds to the creep factor.
Though the ending lost it's way a bit for me, I still enjoyed the reading experience overall and would recommend it for readers who are looking for something a bit dark as we head into the winter months.
Shotgun Lovesongs
by Nickolas Butler (Paperback) 10/10
This had been on my radar for a while but in the end I bought it because it's a reasonably short 317 pages and I wanted something I knew I'd get through during the 24 in 48 readathon. I'm SO SO SO SO SO glad I picked it up because it's an utterly beautiful portrayal of the often painful reality of adult friendships (a.k.a. totally my jam).
Henry, Lee, Kip and Ronny grew up together but also grew apart. When a wedding calls them all back to their hometown, hidden feelings are brought to the surface, and old rivalries and secrets are revealed. The characters are all so human and relatable, I felt I could have been reading about friends. What haunts them at night are the questions we may often ask ourselves; should I have moved away? Should I have stayed? What if I'd earned more money? What if I'd earned less?
Ugh, just thinking about it makes me want to re-read it!
I don't know why I love books like this so much, I just do. My boyfriend thinks it's because I live far away from my closest friends and cherish getting back together with them so much that I like to live vicariously through characters doing the same in my books. He is probably right.
The Husband's Secret
by Liane Moriarty (Paperback) 8/10
Last year I really enjoyed the audiobook of one of Moriarty's other books, Little Lies, in which she expertly tells a story of a death at a parent's evening through a variety of perspectives, and so I was interested to read some of her older books
The Husband's Secret tells the story of Cecilia, a happily married mother of three, who discovers an envelope in her loft marked 'to be opened in the event of my death' in her husband's handwriting.
Spoiler alert, she opens it.
And just like that, a secret is revealed that affects not only Cecilia and her husband, but their friends and families too. The cast of characters is a great mix of likable and loathable and though The Husband's Secret was a little predictable in parts, I still enjoyed reading it a lot. It's been out for a few years now and I often see it in charity shops so pick up a copy there for a good gossipy read!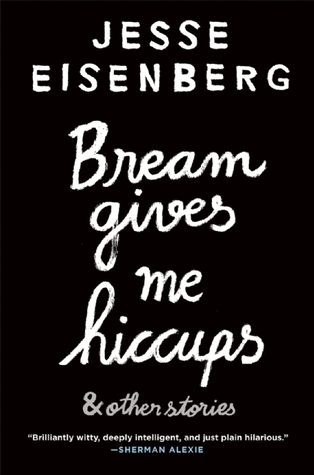 Bream Gives Me Hiccups: And Other Stories
by Jesse Eisenberg (Kindle) 8/10
Fans of Simon Rich, David Sedaris and BJ Novak will love Jesse Eisenberg's new sharp-witted short story collection.
Featuring restaurant reviews from a precocious nine-year-old, manageable tongue twisters and the obscenely funny self-help chapter; 'Smiling Tricks Your Brain into Thinking it's Happy', Eisenberg demonstrates great skill in finding the humour in mundane every day interactions.
A few of the stories are quite US centric, but don't let that put you off. I'm already looking forward to his next book and this would be a great addition to Christmas wishlists, for those of you who've already started.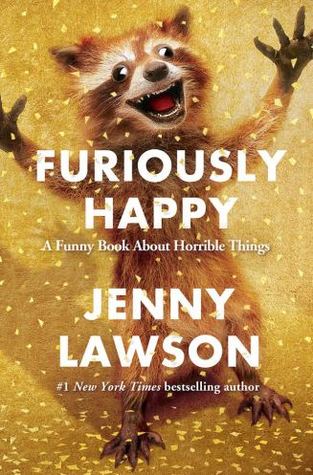 Furiously Happy
by Jenny Lawson (Kindle) 8/10
I've been a huge fan of Jenny Lawson since I first read about the day she gifted her husband a giant metal chicken she named Beyonce for their wedding anniversary. Since then she's tackled metal health with a rare comedic honesty that reassures us no matter how fucked up things get, there are still things to laugh about.
In her new book Furiously Happy, Jenny shares some of the highs and lows from her battle with mental health problems including awkward conversations with her psychiatrist, sleeping so hard her arms zoned out, and, best of all, how she came to be the owner of not one but TWO taxidermy racoons.
"Furiously Happy" is a mantra we should all live by, And thank god Jenny Lawson is here to teach us how.