This has been a weird Autumn. Not really cold, not really rainy, too many social plans, not enough hours on the sofa with a book and a hot chocolate (or cordials, I'm really into those these days). And now it's early November and a mist has descended upon us, but temperature wise we're still in the mid teens and it's not nearly bobble hat weather. What gives?
This is my favourite time of year for digging into a rich, entrancing book or a short story collection and so there have been a few of those on the go. On a recent episode of my podcast, Bookish Blether, Nicola and I dug deep into our favourite Autumn reads.
Next week I'm off to America for a week in which I'll be visiting Washington, DC and NYC. Can't wait to hit up all those lovely stateside bookstores, kick some leaves and go wild in Sephora. I'm still on the fence about what to take with me, but my feeling is that it must be contextual and luckily I have no shortage of books set on the East Coast.
Check back in a month to see how that worked out, but in the meantime here's what I've read in September & October.
A Little Life
by Hanya Yanagihara (Kindle) 10/10
In the Man Booker nominated A Little Life we meet four friends Willem, Malcolm, JB and Jude at college and stick with them through the years as they grow up and their relationships change. Central to the group is Jude, a successful lawyer but emotionally reclusive, having suffered severe abuse throughout his childhood. Willem, Malcolm and JB accept him for who he is but try tirelessly to understand him and his actions, as well as the impact he has had on them.
Yanagihara's writing is stunning, and she has a real knack for dancing the reader back and forth through the decades. Her rich descriptions of New York locations, their homes, and JB's paintings left me wanting more, whilst simultaneously leaving me at times in tears and gasping for air.
This book will sticks with me for years, and fans of novels like The Interestings and Shotgun Lovesongs will enjoy immersing themselves in the world the friends inhabit, but will no doubt find it hard to leave them behind.
A slight word of warning, this book features strong and graphic descriptions of emotional, physical, and sexual abuse, as well as of self-harm but don't let that put you off.
In the Unlikely Event
by Judy Blume (Hardback) 7/10
Miri Ammerman is 13 years old when a place crashes into a river in the small town of Elizabeth, New Jersey. Over the next eight months two more planes crash throwing the town into a heightened state of fear. Is this mechanical failure, or perhaps some more sinister threat of an impending nuclear war?

The real story is here is Miri's coming of age experience. Despite it being an adult novel Blume shows she's still The One when it comes to portraying young love, family conflicts, evolving friendships. Mimi is surrounded by a raft of characters she feels mixed emotions about, particularly her first boyfriend who heroically rescues people from one of the planes, and her best friend who believes she has taken on the spirit of one of the victims.

Miri returns to Elizabeth 35 years later for a memorial and, while it was nice to see how her life had turned out, I was left feeling like I wanted to see more of how the crashes had impacted her throughout the years.

This is a good read for hardcore Judy Blume fans but didn't quite stack up for me the way some of her young adult books did. Most fascinating to me was the knowledge gleaned about the history of the aviation industry which left me feeling grateful that things have come such a long way!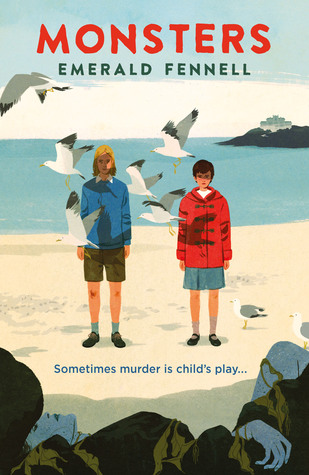 Monsters
by Emerald Fennell (Paperback) 9/10
Despite the fact that this is YA fiction, it's actually one of the darkest books I've ever read. It starts with an introduction to the main character, a lonely 12 year old girl who tells us her parents were chopped up by a boat rudder when she was 9, but she's not that bothered (her words, not mine).

Every summer she is sent to stay with her horrible aunt and uncle at their hotel in a Cornish seaside town. When the body of a local woman appears washed up on the beach the town is thrown into fear, but not this little girl. Oh, no. She's excited. She's curious. She's out to solve the mystery. And when a 13 year old boy called Miles comes to stay at the hotel, she finally has a friend to share her feelings with.
As I said, it's a really dark book and I think readers will either love or hate it. For me, I felt gripped from page one and there were enough shocks and horrors to keep me that way until the end. It's quite a short book so could easily be gobbled up in a day or two, highly recommended for a creepy, rainy, weekend read!




Barbara the Slut and Other People
by Lauren Holmes (Kindle) 9/10
This short story collection is a brilliant look at what it means to be in your twenties and not quite altogether yet. From first loves to first jobs, breakups to breakdowns, Lauren Holmes accurately depicts what it means to growing up, changing your mind, and the drama of the every day.
Favourite stories included 'I Will Crawl to Raleigh if I Have To', on being desperate to dump someone and 'How Am I Supposed to Talk to You?' on weird parental relationships.

As a collection it's an easy, relatable read, and should be straight on your Christmas wishlist! I'll be over here eagerly awaiting whatever Lauren Holmes comes up with next.






Fates and Furies
by Lauren Groff (Kindle) 9/10
Fates and Furies follows young couple Lancelot "Lotto" and Mathilde Satterwhite throughout their 24 year marriage. Married after just two weeks, theirs is a relationship that their friends don't understand, and that seemingly no struggle can derail; despite living in poverty endless days are filled with dinner parties and frolicking.
Lotto is a struggling actor who finds his true calling in writing plays, and as he ages charisma becomes arrogance, ego and self-delusion, to the extent that I almost didn't want to read another word. He is quite insufferable.
And yet when meek Mathilde's voice came to the fore I found myself gripped all over again. The second half is where this book really packs a punch as secrets and betrayals are revealed. Whilst reading I felt gentle reminders of The Great Gatsby, The Interestings, Gone Girl and the film Blue Valentine, all of which I love. I wouldn't want to know any of the characters in Fates and Furies, but I know they'll stick with me for a long time. This is such a wonderful read, pick up a copy asap!
Boy, Snow, Bird
by Helen Oyeyemi (Paperback) 6/10)
In this modern retelling of Snow White we meet Boy Novak, a young woman who leaves behind her abusive father in New York and heads to a small town in Massachusetts to start a new life. When she marries a local man she becomes a stepmother to his beautiful daughter Snow, and later a mother to their own child, Bird.
However, Bird is born with darker skin than her parents, exposing a family secret and forcing the family to confront their obsession with aesthetic appearance.
Oyeyemi's writing here is deeply poetic and I found myself drawn in very quickly to such an enchanting tale. It's very fairytale-esque but not outlandishly so, you won't constantly be thinking of the seven dwarves.
Whilst I found the first two thirds really gripping I sadly felt it lost it's way a little towards the end, only regaining my interest in the final 20 pages. I'm still glad a read it though, as a modern retelling of a fairytale was one of the goals on the
2015 Read Harder challenge
.
Why Not Me?
by Mindy Kaling (Paperback) 8/10


Ugh, why did this book have to be so short? I want to read 5000 pages of Mindy anecdotes!

This follow up to 2011's Is Everyone Hanging Out Without Me? features more brilliant tales from one of my favourite TV writers including How to Get Your Own TV Show (and Nearly Die of Anxiety!), Some Thoughts on Weddings and the excellent Things to Bring to My Dinner Party which prompted me to do a lot of introspective thinking about my own approach to social gatherings.

The book also includes her fantastic Harvard Law School Class Day speech which is the kind of thing I can only dream of seeing

Most interesting is her take on her show, The Mindy Project, being ditched by Fox but finding a new home at Hulu. Since then the show has gotten a lot sexier with more ripe language, no bad thing, there are regular megalols in our house when it's on.



Not on Fire, but Burning
by Greg Hrbek (Paperback) 7/10

Twenty year old Skyler witnesses an event that causes the Golden Gate Bridge to collapse into a mushroom cloud and runs as fast as she can, but not fast enough to get to her baby brother Dorian.

Fast forward 8 years and he lives with parents who try to pretend she never existed, across the street from an elderly neighbour who takes in a Muslim orphan at a time when racial tensions are high and most have been shipped to territories in the desert.

When a pool party ends in a boy being punched, Dorian finds himself in the increasingly unsettling position of trying to find his personal truth though anger. Ultimately here is the tale of a young boy who feels his hatred of another is justified when it comes from a place of love for his sister.

I found this book really engaging and even heart-breaking at times but was sometimes left feeling confused by switching perspectives and tenses. Recommended for a longer reading session, not dipping in and out on the commute.



After the Crash
by Michel Bussi (Paperback) 8/10
December 1980 and a plane crashes in the Alps killing everyone on board except a three-month-old baby girl who is thrown from the plane. Within hours two families come forward to claim her, and court proceedings must determine custody.
Eighteen years later Marc is having doubts about his sister Lylie's identity and armed with the diary of the private investigator who tried to solve the case, he sets out to find the truth.
This book is translated from French and has all the traits of a good thriller; aging boozy detective, woodland hideouts, secretive grandmas.
I enjoyed this a lot and with plenty of twists and turns this is a great wintery read. It's also highly recommended addition to your Christmas gift lists for any thriller addicts in your family.
What have you been reading lately? Be sure to send me recommendations on Twitter
@hollyjunesmith